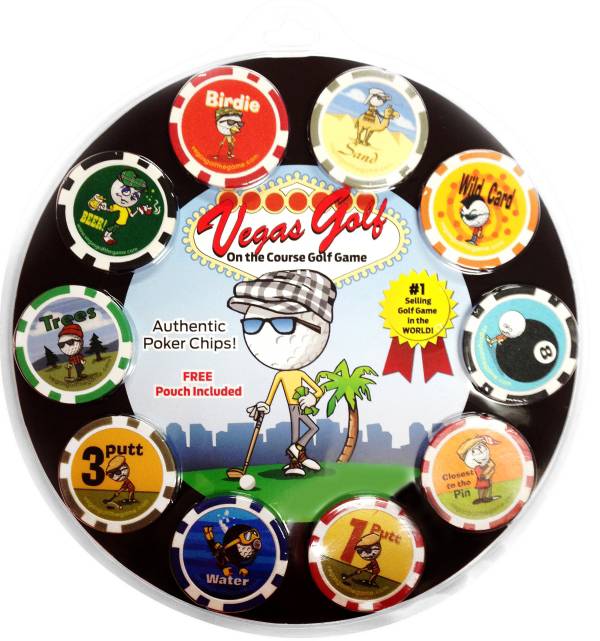 Vegas Golf Group Poker Game - 10 Chip Set
Bring all of the fun and excitement of Las Vegas to the golf course with the Vegas Golf Group Poker Game. This 10-chip set includes 3 positive chips (Birdie, One Putt and Closest to the Pin), 6 negative chips (Water, Tree, Sand, 3-Putt, 8 Ball and the new Beer/Beverage) and 1 wild chip (that the group can decide on before starting the round). The object of the game is to avoid the negative chips and earn/keep as many positive chips as possible. This fun game adds an exciting twist to your standard round of golf and is sure to be a favorite in your foursome.
What's included in this set?
Positive Chips
Birdie: Score 1 under par
1 Putt: Hole out with only 1 putt
Closest to the Pin: Awarded to the player who's shot lands closest to the pin - recommended for Par 3s only, but can be used on every hole during the round
Negative Chips
Water: Given to the player who's shot lands in a water hazard
Tree: Given to the golfer who's ball hits/lands in the trees
Sand: Awarded when shot lands in a sand trap
3-Putt: Earned whenever a player holes out with 3 (or more) putts
8 Ball: Pass this chip to the first player that scores a snowman
NEW - Beer/Beverage: This all new chip is given to the player who lands the furthest from the pin on a par 3 - if you have this chip in your pocket when the beverage cart rolls by, you're picking up the next round of drinks
Additional Chips
Wild Card: The groups assigns a value and task that must be accomplished to earn this chip before the round starts - adds an unexpected element to the round that can really shake things up
How to Play
The first player to hit a shot that corresponds with the designation on the chip is given that chip. He keeps that chip until someone else hits the same shot. The chip is then passed to the next player who makes that same shot.
Example play: if a player goes into the sand, he holds that chip until another player goes into the sand. He then passes the chip to that player. The same holds true for the positive chips. The last player to get a one putt or a birdie is the one who gets the chip.
Now for the good part! At the beginning of the round, each chip is assigned a designated dollar value. At the end of the round, those players holding the negative chips pay each player the designated amount for each chip he is holding. Those holding the positive chip will receive the same amount from each of the other players.
Brand :

Vegas Golf

Country of Origin : United States of America
Web ID:

SS13VGSGLFPKRGME

SKU:

14212558