The Under Armour Men's Igniter 2.0 sunglasses put a new spin on an old favorite. Providing a wide field of vision, thanks to the rimless design, enables optimal vision and versatility across a multitude of sports. The ArmourFrame™ provides a comfortable fit while ArmourSight® Lens Technology provides up to 20% enhanced vision edge to edge. Featuring an adjustable nosepad that guarantees a custom, comfortable, fit.
ArmourSight
ArmourSight® provides the wearer with up to 20% enhanced vision edge to edge, delivered in a lens that is up to 10 times stronger than polycarbonate lenses. ArmourSight Lenses have rendered conventional, decentered, lenses obsolute.
The military-inspired ArmourSight® polymer was created to withstand violent impact, translating into the ultimate protection in training and on the field of play. ArmourSight® Lenses eliminate up to 20% of peripheral distortion, resulting in an increased field of vision that improves reaction time and overall performance.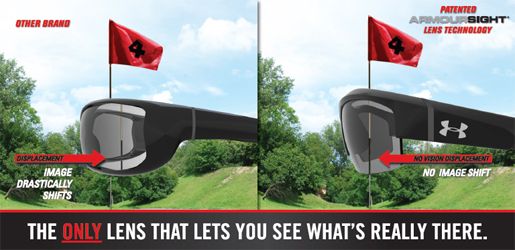 Additional Details
ArmourFusion™ frames flex and retain their shape throug the toughest conditions
The ArmourFusion™ material is a combination of Titanium, which has the highest strength-to-weight ratio of any metal known to man, and Grilamid, a durable cutting-edge thermoplastic, resulting in an ultra-lightweight, impact-resistant sunglass frame
Nosepad can be adjusted for a custom fit
Three point grip ensures a comfortable and secure fit
Patented Multiflection™ lenses use the most advanced lens coatings to eliminate staining and smudges
Lenses are highly scratch-resistant, water-repellent and easier to clean than more traditional lenses