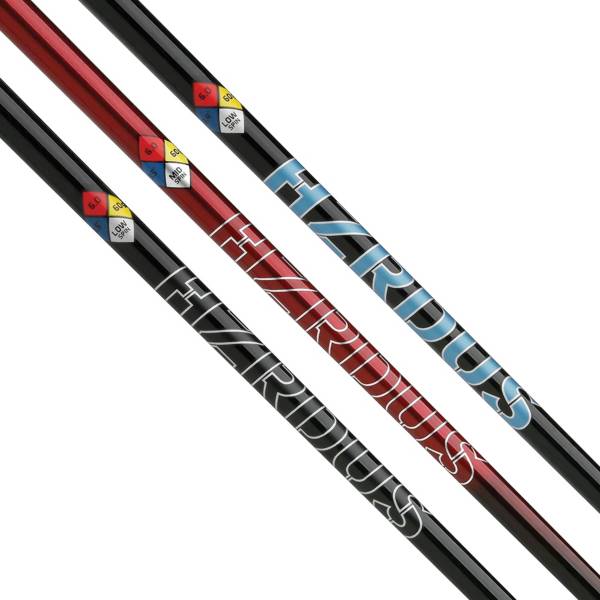 True Temper Project X HZRDUS RDX Custom Driver Shaft
Ordering Guidelines:
Custom items cannot be returned or exchanged
CUSTOMIZE YOUR SHAFT!
Get your clubs ready for the course with a customized shaft! Choose from a variety of custom options such as pureing, club model adapters, lengths, and added grips to match your game.
PROJECT X HZRDUS RDX SMOKE BLUE
With a unique bend profile that strategically changes per flex for player optimization, and the use of Hexcel's HexTow® carbon fibers, Smoke Blue RDX is a shaft that ticks all these boxes.
Smoke Blue RDX is a counterbalanced design that features a soft midsection to maximize shaft load and feel while maintaining a stout butt and tip section to keep up with all swing speeds and provide a stable feel through impact.
Tempo: Moderate
Trajectory: Low
Spin: Low
PROJECT X HZRDUS RDX SMOKE RED
HZRDUS Smoke Red RDX provides more launch and spin than any other HZRDUS RDX shaft.
Similar to RDX Black, Smoke Red RDX features a stiff butt and midsection that best suits aggressive tempos but contains an active tip section for increased trajectory.
Designed in lighter weights and optimized torques, RDX Red is ideal for a wide range of mid trajectory players.
Tempo: Fast
Trajectory: Mid
Spin: Mid
PROJECT X HZRDUS RDX SMOKE BLACK
Featuring a low-spin and low-launch profile that maintains the HZRDUS reputation, Smoke Black is designed for today's aggressive swingers while providing new optimized material placement to promote an improved feel and increase in playability.
Tempo: Fast
Trajectory: Low
Spin: Low
Country of Origin : Imported

Brand :

True Temper
Web ID:

23TMPUCSTMPRJCTXDSHF

SKU:

24798172
Specifications
| Model | Flex | Torque | Weight (g) |
| --- | --- | --- | --- |
| Smoke Blue 60 | 5.5 | 4.2 | 64 |
| Smoke Blue 60 | 6.0 | 3.4 | 64 |
| Smoke Blue 60 | 6.5 | 3.4 | 64 |
| Smoke Blue 60 | TX | 3.3 | 64 |
| Smoke Blue 70 | 6.0 | 3.2 | 75 |
| Smoke Blue 70 | 6.5 | 3.2 | 75 |
| Smoke Blue 70 | TX | 2.9 | 75 |
| Smoke Blue 80 | TX | 2.9 | 88 |
| Smoke Red 50 | 5.0 | 5.9 | 50 |
| Smoke Red 50 | 5.5 | 5.5 | 50 |
| Smoke Red 50 | 6.0 | 5.5 | 50 |
| Smoke Red 60 | 5.5 | 4.5 | 60 |
| Smoke Red 60 | 6.0 | 3.5 | 60 |
| Smoke Red 60 | 6.5 | 3.5 | 60 |
| Smoke Red 60 | TX | 3.2 | 60 |
| Smoke Red 70 | 5.5 | 3.7 | 71 |
| Smoke Red 70 | 6.0 | 3.7 | 71 |
| Smoke Red 70 | 6.5 | 3.5 | 71 |
| Smoke Red 70 | TX | 2.6 | 73 |
| Smoke Black 60 | 5.5 | 4.0 | 58 |
| Smoke Black 60 | 6.0 | 3.5 | 58 |
| Smoke Black 60 | 6.5 | 3.5 | 59 |
| Smoke Black 60 | TX | 3.2 | 62 |
| Smoke Black 70 | 5.5 | 4.0 | 66 |
| Smoke Black 70 | 6.0 | 3.5 | 67 |
| Smoke Black 70 | 6.5 | 3.5 | 69 |
| Smoke Black 70 | TX | 2.7 | 72 |
| Smoke Black 80 | 6.0 | 3.0 | 80 |
| Smoke Black 80 | 6.5 | 3.0 | 80 |
| Smoke Black 80 | TX | 2.3 | 84 |