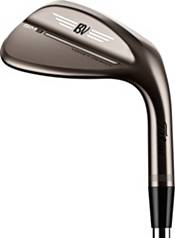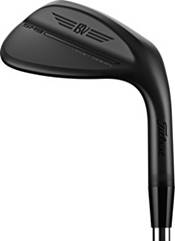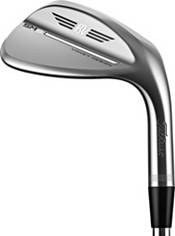 Titleist Vokey Design SM9 Custom Wedge
ORDERING GUIDELINES
Custom items cannot be returned or exchanged
VOKEY SM9 WEDGE
Designed to maximize spin, give additional distance and trajectory control, and offer shot versatility – Master Craftsman Bob Vokey's three keys to great wedge play
Developed with the ultimate choice of optionality across all three categories with the most complete lineup of loft, grind, and bounce combinations
Versatility, accuracy, and forgiveness are offered through six grind options and a total of 23 different models with lofts ranging from 46° to 62%deg;
FORWARD CENTER OF GRAVITY PROGRESSION
Improving upon the groundbreaking Progressive Center of Gravity (CG) design to push the envelope again – with even more innovation
An innovative forward CG position that hovers in front of the wedge face to produce a solid feeling wedge that squares up at impact for more consistent results
CG has been raised vertically by added weighting in the topline design, where a tapered pad at the back of the toe helps align the CG properly without being visible from the playing position
Progressive hosel lengths raise the CG in the higher lofts, particulary 58°-62°
Improved distance and trajectory control, and increased stability for more consistency
REFINED SOLE GRIND OPTIONS
Developed through decades of work with the best shot makers in the game, Vokey's six Tour-proven sole grinds – F, S, M, K, L, and D – allow golfers of all skill levels to be precisely fit for their swing type (steep, neutral, shallow), shot making style (sweeper, digger) and course conditions (firm, neutral, soft)
FIND YOUR GRIND
Vokey has determined that the optimum strike position on a Vokey Design wedge is between grooves 2 and 5. Shots in this area produce a lower, more consistent flight with higher spin.
Fit your wedge to your swing type, style of play and course conditions. Begin by determining the proper grind for the shots you hit most.
BOUNCE AND GRIND SELECTION:
Having different grind options in your wedge set will create more versatility and improve your shot making from various lies and turf conditions

F-Grind:

The F grind is an all-purpose grind that is particularly suited for full shots and shots hit with a square face. Ideal for players who prefer a traditional wedge sole. The F grind is the most played sand wedge on Tour.

M-Grind:

The M Grind, Vokey's favorite, is designed for players that like to rotate the club face open and closed to manufacture shots around the green. Ideal for players with a shallower, more sweeping swing type who play shots from a variety of clubface positions.

S-Grind:

The S Grind features a full sole that has been narrowed by a trailing edge grind, giving it a faster feel through the turf. This grind is best for neutral to firm conditions and for players that like to control loft with their hands ahead or behind the ball.

D-Grind:

The D grind blends versatility from a heel, toe, and trailing edge grind and forgiveness with its high measured bounce. The D Grind is ideal for players with a steeper angle of attack who play shots from a variety of clubface positions.

K-Grind:

The K Grind is the highest bounce wedge in the lineup, and is the ultimate bunker club. The K Grind is a wide, full sole wedge with enhanced camber to make it forgiving from a variety of sand and turf conditions.

L-Grind:

The L Grind is the lowest bounce option in the mix. The heel, toe, and trailing edge relief allow for maximum greenside versatility. This club is perfect for firm conditions and designed for precise players. It is ideal for players that have complete control of impact looking for maximum shot-making versatility.
SPIN MILLED CUTTING PROCESS
New Spin Milled cutting process in the SM9 models tightens allowable tolerances and produces consistently sharper grooves that result in higher, more consistent spin
Spin Milled Grooves are meticulously engineered and cut to the edge to maximize spin and shot control
Each groove is 100% inspected for conformity to the rules of golf
Microgrooves are individually cut between grooves to maximize spin on partial shots
Each groove is cut based on loft and finish with the Lower lofts (46°-54°) designed with narrower, deeper grooves and Higher lofts (56°-62°) with wider, shallower grooves
Country of Origin : United States of America

Brand :

Titleist
Web ID:

22TTLMSM9CSTMWDGXWDG

SKU:

23174849
Specifications
| Wedge Type | Model | Loft | Lie | Bounce/Sole Grind |
| --- | --- | --- | --- | --- |
| Pitching | 46° | 46° | 64° | 10° (F) |
| Pitching | 48° | 48° | 64° | 10° (F) |
| Gap | 50° | 50° | 64° | 8° (F) | 12° (F) |
| Gap | 52° | 52° | 64° | 8° (F) | 12° (F) |
| Sand | 54° | 54° | 64° | 10° (S) | 12° (D) | 14° (F) |
| Sand | 56° | 56° | 64° | 8° (M) | 10° (S) | 12° (D) | 14° (F) |
| Lob | 58° | 58° | 64° | 8° (M) | 10° (S) | 12° (D) | 14° (K) |
| Lob | 60° | 60° | 64° | 4° (L) | 8° (M) | 10° (S) | 12° (D)| 14° (K) |
| Lob | 62° | 62° | 64° | 8° (M) |