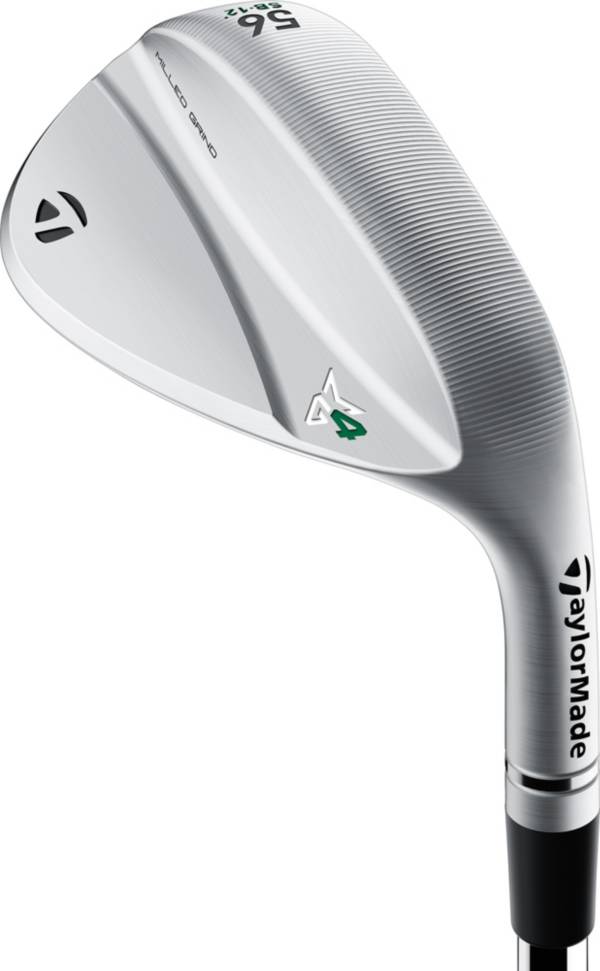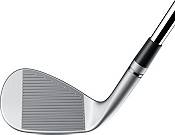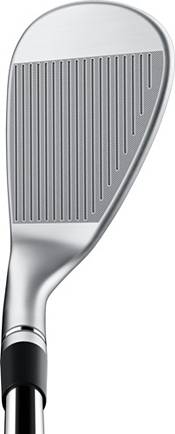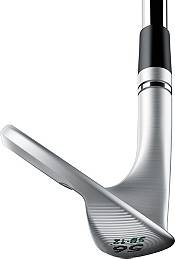 TaylorMade Milled Grind 4 Wedge
Shaft:
True Temper Dynamic Gold Tour Issue 115g Wedge Steel
Highlights
Spin Tread Grooves
Increased Flange Thickness
Raw Face
Improved Tour Inspired Shaping
Machined Sole
Spin Tread Grooves
Deep laser etching between the grooves provides a channel for the water to escape upon impact, maintaining spin in wet conditions
Increased Flange Thickness
This design offers improved sound and feel on shots struck across the face.
Raw Face
The raw surface and toe area works in conjunction with the new Spin Tread Grooves to provide the best spin properties in wet conditions.
Improved Tour Inspired Shaping
The reshaped top line, leading edge and hosel blend to create a smoother and fuller look for improved shot making.
Machined Sole
A fully machined sole ensures the exact grind and bounce geometry every time.
Lighter Weight Tour Issue Shaft
A light True Temper Tour Issue 115g shaft helps generate more feel.
Grind Options
LB - Modified C-Grind with a leading "ski" that allows the leading edge to sit low to the ground with an open face. For players who are shallow and open the face angle around the greens.
LBV - Low Bounce Performance sole offers the skilled player ultimate in greenside versatility. Designed for shallow attack angles. The aggressive narrow V-Sole provides the lowest leading edge for greenside protection
SB - A classic full sole design with constant trailing edge relief. A gentle 4-way camber with versatility is designed for most swing types and for players that keep their face square to the target
SBC - Provides more versatility with added bounce and camber in the middle of the sole with a relieved heel and trailing edge. Designed for the players who prefer ultimate versatility with different face angling around the green.
HB - Standard width sole design with added heel relief for increased shot making and slightly steeper swings
HBW - Wide sole with a high bounce and forgiveness. Designed with maximum camber and full sole symmetry. Excellent in soft turf conditions and bunker play.
TW-56 - TW Grinds perform in the low bounce category. The 56° wedge is a dual sole with heavy heel relief.
T-60 - TW Grinds perform in the low bounce category. The 60° has an extremely high bounce on the leading edge with a shaved heel.
Grip
Lamkin Crossline 360 Black/Silver/Green 52g 0.580 Round
Country of Origin : Imported

Brand :

TaylorMade
Web ID:

23TYMMMLLDGRND4CHWDG
Specifications
| Grind | Loft | Length | Bounce | Lie | Swingweight |
| --- | --- | --- | --- | --- | --- |
| Standard Bounce | 46° | 35.75" | 9° | 64° | D3 |
| Standard Bounce | 48° | 35.75" | 9° | 64° | D3 |
| Standard Bounce | 50° | 35.50" | 9° | 64° | D3 |
| Standard Bounce | 52° | 35.50" | 9° | 64° | D3 |
| Standard Bounce | 54° | 35.25" | 11° | 64° | D5 |
| Standard Bounce | 56° | 35.25" | 12° | 64° | D5 |
| Standard Bounce | 58° | 35.00" | 11° | 64° | D5 |
| Standard Bounce | 60° | 35.00" | 10° | 64° | D5 |
| Standard Bounce C-Grind | 58° | 35.00" | 9° | 64° | D5 |
| Standard Bounce C-Grind | 60° | 35.00" | 9° | 64° | D5 |
| Low Bounce | 56° | 35.25" | 8° | 64° | D5 |
| Low Bounce | 58° | 35.00" | 8° | 64° | D5 |
| Low Bounce | 60° | 35.00" | 8° | 64° | D5 |
| Low Bounce V-Grind | 58° | 35.00" | 7° | 64° | D5 |
| Low Bounce V-Grind | 60° | 35.00" | 7° | 64° | D5 |
| High Bounce | 54° | 35.25" | 13° | 64° | D5 |
| High Bounce | 56° | 35.25" | 14° | 64° | D5 |
| High Bounce | 58° | 35.00" | 12° | 64° | D5 |
| High Bounce | 60° | 35.00" | 12° | 64° | D5 |
| High Bounce W-Grind | 58° | 35.00" | 13° | 64° | D5 |
| High Bounce W-Grind | 60° | 35.00" | 13° | 64° | D5 |