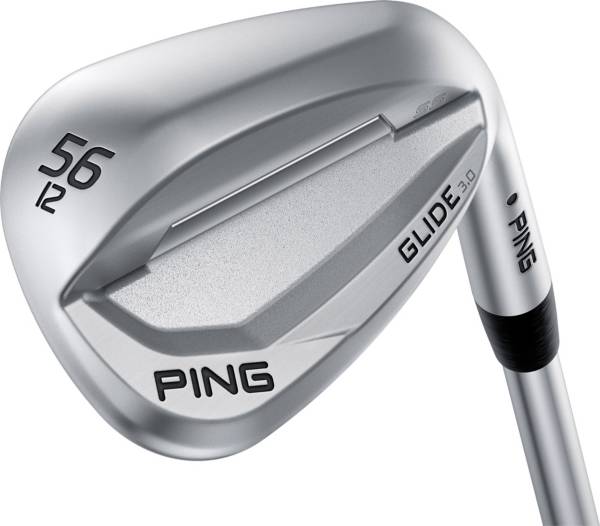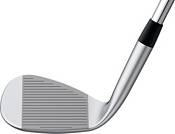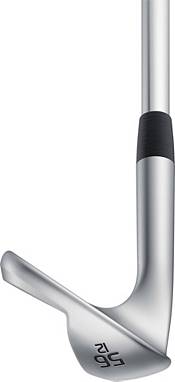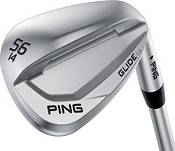 PING Glide 3.0 Wedge – (Steel)
Due to unprecedented demand across the golf industry, there is a shortage of grips. Though we will make every effort to install the inline "stock" grip, we may on occasion, need to substitute for an equivalent premium grip. This grip would be of similar weight and type. We appreciate your understanding and support as we continue to deal with this component shortage.
Save shots in the scoring zone with the Glide 3.0 Wedge. The tour-proven wedge is designed with a rounded head profile, tapered hosel and more offset to create higher spin, enhanced feel and incredible control. Loft-specific Precision Milled Grooves optimize ball interaction at impact for improved spin and trajectory control. Multiple bounce angle offerings allow golfers to select the perfect configuration to match typical divot depth and playing conditions for personalized results. The HydroPearl Chrome 2.0 club head finish repels water and creates a classic look while further enhancing turf interaction.
Design:
Tour-proven wedge designed with rounded head profile, tapered hosel and more offset to create higher spin, improved feel and control
Soft, 431 Stainless Steel construction creates clean look at address and enhances ball capture
Rounded, higher MOI head contains an elastomer insert to deliver greater accuracy and a softer impact experience
Loft-specific Precision Milled Grooves enhances interaction with the ball at impact to create improved spin and trajectory control

Lower lofted wedges (46° - 52°) feature a 20° sidewall for optimal full-shot performance
Higher lofted wedges (54° - 60°) feature a 28° sidewall and tighter radius for more ball compression and spin

Multiple Bounce Angles allow golfers to fit wedges to typical divot depth and playing conditions

Thin Sole (TS) is suited for a shallow angle of attach and shallow divots
Standard Sole (SS) is suited for moderate attack angles and moderate divots
Wide Sole (WS) is suited for steep angles of attack and deeper divots
Eye2 is versatile from all conditions, especially from the bunkers

HydroPearl Chrome 2.0 club head finish repels water and lowers the friction between the turf and club for more control
Thin, tapered hosel design glides through the sand and high grass better for improved performance
Lightweight Dylawedge grip features a softer and longer shaft tapering for more control when gripping down
Lighter shaft with a lower balance point closer to the tip helps with feel around the head for greater control and versatility
Shaft: PING Z-Z115 Steel Shaft
Grip: PING Dylawedge Grip
Web ID:

19PNGMGLD30CHRMXXWDG
| Model | Loft | Lie | Length | Bounce | Swing Weight |
| --- | --- | --- | --- | --- | --- |
| 46° | 46° | 64° | 35.5" | 12° (SS) | D2 |
| 50° | 50° | 64° | 35.5" | 12° (SS) | D2 |
| 52° | 52° | 64° | 35.5" | 12° (SS) | D2 |
| 54° | 54° | 64.3° | 35.25" | 12° (SS) | 14° (WS) | D3 |
| 56° | 56° | 64.3° | 35.25" | 12° (SS) | 14° (WS) | D3 |
| 58° | 58° | 64.5° | 35" | 10° (SS) | 14° (WS) | 6° (TS) | D4 |
| 60° | 60° | 64.5° | 35" | 10° (SS) | 14° (WS) | 6° (TS) | D4 |