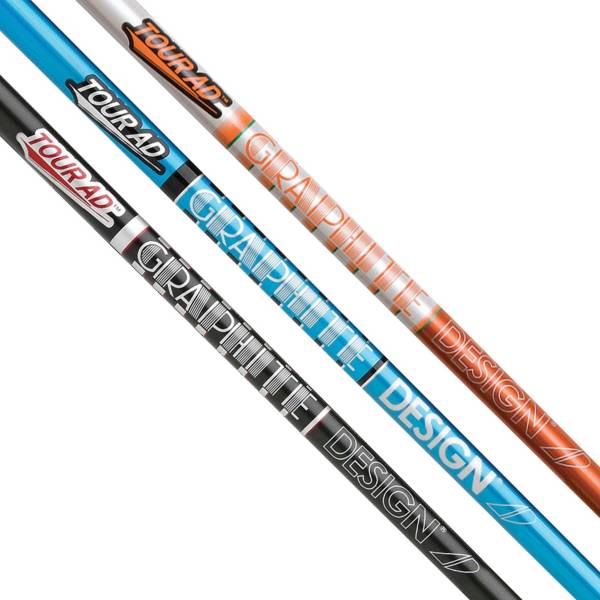 Graphite Design Tour AD Custom Driver Shaft
Ordering Guidelines:
Custom items cannot be returned or exchanged
CUSTOMIZE YOUR SHAFT!
Get your clubs ready for the course with a customized shaft! Choose from a variety of custom options such as pureing, club model adapters, lengths, and added grips to match your game.
GRAPHITE DESIGN TOUR AD DI
The Graphite Design Tour AD Deep Impact graphite wood shaft is designed to provide more power and stability.
New Nanomaterial technology in the tip section of the golf shaft increases ball speed while still providing exceptional feel and control
Mid bend profile allows the player to load the shaft properly, yet maintains a firm enough tip section through impact producing optimal spin and launch conditions
GRAPHITE DESIGN TOUR AD UB
Optimized for head performance with large and high moment of inertia.
The "TOUR AD UB" series is a shaft that directly transmits power to the ball by further utilizing the head performance of the current large size and high moment of inertia.
The Tour AD UB features a strong impact with no energy loss that suppresses twisting of the shaft due to high rigidity and a shaft behavior that makes it easy to take timing due to the slow taper design.
Trading Card® T1100G Achieves both high strength and high elastic modulus by firing technology that precisely controls the fiber structure at the nano level.
Trading Card M40X Effectively demonstrates the performance of the new grade M40X of Toray's carbon fiber Trading Card MX series.
GRAPHITE DESIGN TOUR AD XC
Designed and manufactured at the Graphite Design Japan factory headquarters
Utilizes the brand new TORAYCA®M40X carbon fiber pre-preg in the mid to tip section with NANOALLOY® technology in the tip section of the shaft for unrivaled shaft stability and precise ball control
Shaft profile is designed with a softer butt section, a stiff center section and a stiff tip section to promote a low launch angle and low spin
Delivers the exceptional feel that Graphite Design shafts are known for, while providing the "Xtra Carry" needed to optimize distance
Country of Origin : Imported

Brand :

Graphite Design
Web ID:

23GDEUCSTMTRDDRVRSHF

SKU:

24798173
Specifications
| Model | Flex | Torque | Weight (g) | Traj |
| --- | --- | --- | --- | --- |
| DI Org 50 | R2 | 4.7 | 53.5 | High |
| DI Org 50 | R1 | 4.7 | 55 | High |
| DI Org 50 | S | 4.6 | 56.5 | High |
| DI Org 60 | SR | 3.4 | 63.5 | High |
| DI Org 60 | S | 3.3 | 65 | High |
| DI Org 60 | X | 3.3 | 66.5 | High |
| DI Org 70 | S | 3.2 | 73.5 | Mid/High |
| DI Org 70 | X | 3.1 | 75 | Mid/High |
| UB 50 | R1 | 4.4 | 56 | Mid |
| UB 50 | S | 4.4 | 57 | Mid |
| UB 60 | SR | 3.2 | 63 | Mid |
| UB 60 | S | 3.2 | 65 | Mid |
| UB 60 | X | 3.2 | 66 | Mid |
| UB 70 | S | 3.0 | 74 | Mid |
| UB 70 | X | 3.0 | 75 | Mid |
| UB 70 | TX | 3.0 | 76 | Mid |
| XC 50 | R1 | 4.2 | 54 | Low/Mid |
| XC 50 | S | 4.2 | 56 | Low/Mid |
| XC 60 | SR | 3.2 | 62 | Low/Mid |
| XC 60 | S | 3.2 | 64 | Low/Mid |
| XC 60 | X | 3.2 | 65 | Low/Mid |
| XC 70 | S | 3.0 | 73 | Low/Mid |
| XC 70 | X | 3.0 | 75 | Low/Mid |