Pros on the Tour use the Pendulum Putting Rod to help them stay in posture throughout the stroke and keep their hands from flipping at impact. The result of using the Rod is putts that are hit solid and roll end-over-end. The first putt you stroke with the Pendulum Putting Rod may be your best ever.
Using the Pendulum Putting Rod helps you with critical fundamentals. It is a perfect one-piece connection between the shoulders arms, and hands. It will help you stay in perfect posture throughout the stroke and if you lift your head, the rod will fall from your chest. It gives you a consistent way to check your putter shaft angle at address. This creates consistent putter loft and distance control. It keeps your stroke on plane. If you take the putter back outside the line, the Pendulum Putting Rod will fall.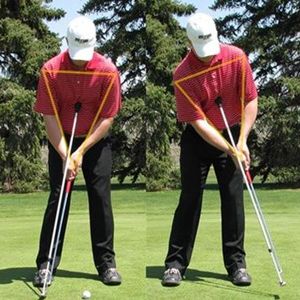 Start with a perfect setup:
If the putter shaft is behind the ball at address, it adds loft to the putter.
The Result: The putt bounces. It tends to go to the right of the target and comes up short of the cup.
The Pendulum Putting Rod creates a perfect shaft angle on target, in the cup.
Have perfect impact:
If the hands flip at impact there is no control of the putter face.
The Result: A poorly struck putt.
The Pendulum Putting Rod keeps solid hand position at impact. Solid putts, perfect distance control.
Have perfect balance:
If you lift your head and eyesduring the stroke, you will mis-hit the putt.
The Result: Poor distance control, and long second putts.
It keeps you in the perfect posture and lets you hit every putt solid.