+ / - Hover over image to Zoom
Cleveland RTX-3 Blade Wedge - Tour Raw
by Cleveland
SKU:

16CLEMRTX3RWWDG

16CLEMRTX3RWWDG
bvseo-2.0.1.5
bvseo-true
bvseo-j
bvseo-CLOUD
bvseo-54ms
bvseo-REVIEWS
bvseo-PRODUCT
bvseo-getAggretateRating
bvseo-msg: The resource to the URL or file is currently unavailable.;
Main_Site-en_US
none
1500
${config.value}
golfgalaxy-78f5ef807b53fc6fcc0a3f143f3b2a13
seo.bazaarvoice.com
seo-stg.bazaarvoice.com
1000
${config.value}
1000
${config.value}
false
0
true
false
msnbot|google|teoma|bingbot|yandexbot|yahoo
Mozilla/5.0 (Macintosh; Intel Mac OS X 10_9_0) AppleWebKit/537.36 (KHTML, like Gecko) Chrome/30.0.1599.69 Safari/537.36 BrandingBrand
http://www.golfgalaxy.com/p/cleveland-rtx-3-blade-wedge-tour-raw-16clemrtx3rwwdg/16clemrtx3rwwdg
http://www.golfgalaxy.com/p/cleveland-rtx-3-blade-wedge-tour-raw-16clemrtx3rwwdg/16clemrtx3rwwdg?bvreveal=debug
16CLEMRTX3RWWDG
REVIEWS
PRODUCT
1. Hand: Right Hand
2. Loft:
3. Bounce:
4. Shaft: True Temper Dynamic Gold Steel
Select attributes to see availability
Closer has new meaning thanks to the Cleveland RTX-3 Wedge. Face Balancing™ Technology saves 9 g of mass that is used to shift CG closer to the impact zone, maximizing stability and accuracy, while each of the V sole grinds promotes crisper feel and turf interaction. The new Rotex™ face features Tour Zip Grooves™ and advanced milling, increasing friction and resulting in the ultimate in spin control around the green.
Face Balancing™ Technology
Saves 9 g of mass by adding a microcavity inside the hosel and shortening the hosel
Shifts CG closer to the center of the face or impact zone to decrease vibration and maximize stability at impact
Improves feel and tightens shot dispersion to give you maximum control
V sole grinds
V shape and more leading edge bounce help get the club head through the turf faster at impact
Each grind promotes crisper feel and more consistent speed for increased spin control
Each sole peak is ideally located to optimize playability for different attack angles, styles, and course conditions
V-LG
Narrow, low-bounce sole
Ideal for tight, firm conditions
Fits a shallow angle of attack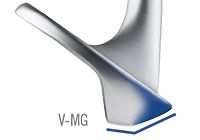 V-MG
Mid-bounce sole
Ideal for a wide range of conditions
Fits most players
V-FG
Forgiving wider sole
Ideal for soft, wet conditions
Fits a steep angle of attack
New Rotex™ face
New Tour Zip Grooves™ feature a deeper, narrower shape and a sharp edge radius to enhance contact across a variety of conditions
Advanced, 2-pass micro-milling pattern increases friction and is directionally enhanced by loft to optimize performance
Laser Milling precisely roughens the face surface to the conforming limit for even more friction and spin control around the green
Details
Blade models provide the most versatility and maximize all-around performance
Tour Raw finish rusts over time for a distinctive look preferred by Cleveland staffers
True Temper Dynamic Gold shaft
Lamkin Blue Cap grip
Brand:

Cleveland

Country of Origin:

Imported
bvseo-2.0.1.5
bvseo-true
bvseo-j
bvseo-CLOUD
bvseo-0ms
bvseo-REVIEWS
bvseo-PRODUCT
bvseo-getReviews
bvseo-msg: The resource to the URL or file is currently unavailable.;
Main_Site-en_US
none
1500
${config.value}
golfgalaxy-78f5ef807b53fc6fcc0a3f143f3b2a13
seo.bazaarvoice.com
seo-stg.bazaarvoice.com
1000
${config.value}
1000
${config.value}
false
0
true
false
msnbot|google|teoma|bingbot|yandexbot|yahoo
Mozilla/5.0 (Macintosh; Intel Mac OS X 10_9_0) AppleWebKit/537.36 (KHTML, like Gecko) Chrome/30.0.1599.69 Safari/537.36 BrandingBrand
http://www.golfgalaxy.com/p/cleveland-rtx-3-blade-wedge-tour-raw-16clemrtx3rwwdg/16clemrtx3rwwdg
http://www.golfgalaxy.com/p/cleveland-rtx-3-blade-wedge-tour-raw-16clemrtx3rwwdg/16clemrtx3rwwdg?bvreveal=debug
16CLEMRTX3RWWDG
REVIEWS
PRODUCT
| Model | Loft | Bounce | Grind | Lie | Length | Swing Weight |
| --- | --- | --- | --- | --- | --- | --- |
| 46.08 | 46.0° | 8.0° | V-MG | 64.0° | 35.50'' | D3 |
| 48.08 | 48.0° | 8.0° | V-MG | 64.0° | 35.50'' | D3 |
| 50.10 | 50.0° | 10.0° | V-MG | 64.0° | 35.25'' | D4 |
| 52.10 | 52.0° | 10.0° | V-MG | 64.0° | 35.25'' | D4 |
| 54.08 | 54.0° | 8.0° | V-LG | 64.0° | 35.125'' | D5 |
| 54.11 | 54.0° | 11.0° | V-MG | 64.0° | 35.125'' | D5 |
| 54.14 | 54.0° | 14.0° | V-FG | 64.0° | 35.125'' | D5 |
| 56.08 | 56.0° | 8.0° | V-LG | 64.0° | 35.125'' | D5 |
| 56.11 | 56.0° | 11.0° | V-MG | 64.0° | 35.125'' | D5 |
| 56.14 | 56.0° | 14.0° | V-FG | 64.0° | 35.125'' | D5 |
| 58.06 | 58.0° | 6.0° | V-LG | 64.0° | 35.00'' | D6 |
| 58.09 | 58.0° | 9.0° | V-MG | 64.0° | 35.00'' | D6 |
| 58.12 | 58.0° | 12.0° | V-FG | 64.0° | 35.00'' | D6 |
| 60.06 | 60.0° | 6.0° | V-LG | 64.0° | 35.00'' | D6 |
| 60.09 | 60.0° | 9.0° | V-MG | 64.0° | 35.00'' | D6 |
| 60.12 | 60.0° | 12.0° | V-FG | 64.0° | 35.00'' | D6 |
| 62.08 | 62.0° | 8.0° | V-MG | 64.0° | 35.00'' | D6 |
| 64.08 | 64.0° | 8.0° | V-MG | 64.0° | 35.00'' | D6 |